Technical Excellence Award
to David Cameron, VE7LTD

Dave has been awarded the Dayton Hamvention
Technical Excellence Award

I R LP - Keeping the Radio in Amateur Radio


following is an excerpt from ARRL.org
The Hamvention's Technical Excellence Award goes each year to a person who has made an outstanding technical advancement in the field of Amateur Radio. The award announcement said Cameron "was instrumental in development of the software, hardware, and technology" to permit worldwide radio and repeaters linking via the Internet Radio Linking Project.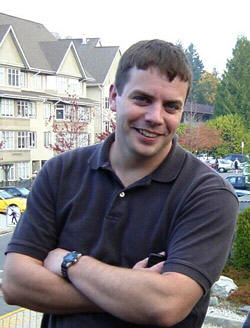 Dave Cameron, VE7LTD [UBC Photo]
"His work literally transformed FM repeater communication from a local entity into a worldwide communication network that has been of immense value in emergencies and has helped unite the world's radio amateurs over the Internet and radio," the award nomination said.
Born and raised in Vancouver, British Columbia, Canada, Cameron attended the University of British Columbia where he joined the UBC Amateur Radio Society. He built his first repeater and computer-based repeater controller in the 1990s. In 1997, the Internet Radio Linking Project was born as an attempt to use the Internet to link radio systems across Canada. A variety of problems led to the system's shutdown the following year, however.
Cameron set out to design a more robust system using a Linux platform. He designed an interface board to connect the radio to the computer, wrote and improved the software and ultimately succeeded in creating a nearly seamless radio link between two remote sites on the Internet.
The IRLP system runs a large network of dedicated servers and nodes offering excellence in voice communications. "IRLP and its derivatives have opened up a whole new world of communications in VHF/UHF repeaters with the power of the Internet," the award announcement said.
The world's largest Amateur Radio gathering, Hamvention each spring attracts more than 20,000 people to the greater Dayton area.
Hamvention Chairman Jim Nies, WX8F, praised the recipients. "On behalf of the Dayton Amateur Radio Association and Hamvention 2007, it is my pleasure to congratulate this year's award winners," he said. "Please join me in recognizing the outstanding contributions and the many years of devotion the winners have given to the Amateur Radio service."
Dayton Hamvention this year takes place Friday through Sunday, May 18-20, at Hara Arena near Dayton, Ohio. The theme of the 56th Hamvention is "Local Clubs: The Heart of Ham Radio."
Meet Dave in the IRLP booth in the Silver Arena at the Hamvention.
Enjoy IRLP and please "Pass the Word"
If left menu bar is not visible, click here

last updated April 17, 2007
© 2005 IRLP.NET
Privacy Policy